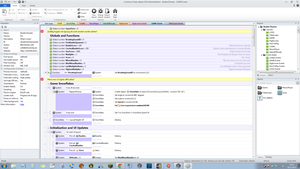 We are making good progress on Bauble Disaster. We fixed most of the initial problems and the core game mechanics are done. Only the Clay.io implementation for global highscores is not working properly, yet. Because christmas is coming closer every day it seems we have to delay some features like the music player - a seperate part of the game where you can listen to great christmas music from Kevin MacLeod. This and any other features that we need to delay will be available in a free update for the game. 
A few new background images were added today and we tried to create our first Android package with CocoonJS from Ludei to improve performance on Android devices. Unfortunately we have no Android devices to test everything and we had to borrow a tablet from someone. We ran into some issues and hope to be able to solve them tomorrow.
If you are interested in betatesting and have an Android device we would be happy to hear from you. Just fill out our betatester application form.
Since we have no Apple developer account yet we can only publish our games and apps as installed HTML app and not as a native iOS application, which would boost performance significantly.
We will have to see how well our first mobile game runs on different devices when it runs as HTML app. If your iOS or Android device is not older than one or two years it should run very smoothly even without a native app. If no unforeseen problems occur we should be able to release Bauble Disaster in a few days.
If you have any issues with our game let us know. You can post in our official support forums or send us an email. Your (constructive) feedback is always welcome.