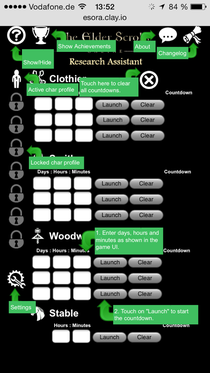 We have just finished the next update for ESO Research Assistant (ESORA) to v1.2.
To improve the overall appearance some buttons were changed to icons and moved to the top and the left side of the app. New settings allow you to enable or disable sound notifications and color-coded countdowns.
The full changelog:
v1.2
changed button style and moved them from bottom to top
added Settings screen

added option to enable/disable sound notification
added option to enable/disable color-coded countdowns

added some achievements (just for fun)
started to work on support for multiple char profiles
(will be available in an upcoming version)
ESORA is available on clay.io for $0.99 (about 0,72€) and runs on desktops, tablets and mobile phones.
More Screenshots