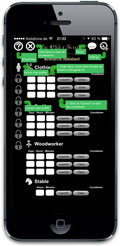 We are currently working on the next update v1.2 for ESO Research Assistant (ESORA).
Our latest app tracks research and feeding times for The Elder Scrolls Online. It seems there are some problems with approving apps on clay.io right now but we hope it can be sorted out soon.
The changes so far:
we changed the style of the buttons at the bottom and moved them to the top of the app window
we added a new settings screen to:

enable/disable sound notifications
enable/disable color coded countdowns (not done yet)

we added some achievements (just for fun)
we started to work on support for multiple char profiles (available in another upcoming update)
ESORA is currently available for only $0.99 (about 0,72€) and includes free feature updates and support. Additional char profiles might be available as In-App Purchase (IAP) in an upcoming version.